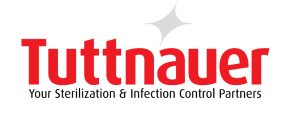 Tuttnauer T-Classic 9 Portable & Lightweight Steam Autoclave
Compact & portable tabletop steam autoclave, designed for small clinics or as a backup to existing autoclaves in medium-large clinics. Tuttnauer performance with the simplicity your practice needs.
Comes with all standard accessories and literature which includes internal basket with lid. This is a professional grade autoclave and is perfect for all General Medical, Dental, Chiropody, Tattooing, Body Piercing, Nail Salon and Veterinary applications.
2 year parts and labour warranty
Light, compact, portable and robust, top-loading autoclave
Fast, Unwrapped cycle times, in as short as 18 minutes, for fast point-of-use sterilization.
Simple one-step operation starts the automatic cycle
Light sequence indicators show 'Power to Unit' – 'Cycle in Progress' – 'Sterilization in Progress' – 'Cycle is Successful' or 'Cycle has Failed
Electronic detectors turn off the power if there is insufficient water
Thermal fuse to protect against overheating and electrical faults
Fully Automatic – starts cycle to completion.
Short Cycles – starting at 18 minutes only.
Compact & Portable – total weight of 11.7 lbs. & width of 9.5″
Intuitive & Simple – cycles starts with a press of a button.
Affordable – the most affordable FDA-approved autoclave in the market
Technical Specifications:
Chamber Size :  
8.2″ wide x 9″ high
Chamber capacity:
9 Liter / 2.4 Gallon
Max instrument length;
9"
Max load weight:
3kg/6.61 lbs.
Sterilizing temperature:
250⁰F
Min. sterilizing time:
18 min.
Standards and Guidelines:
ASME Vlll Division 1
Medical Device Directive MDD
93/42/EEC
FDA 510(K) – Number K962903
CSA
TSSA Canadian Design Registration