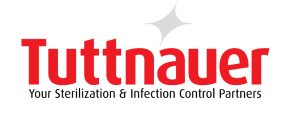 Tuttnauer Clean & Simple Ultrasonic Cleaner, 1 Gal
The Tuttnauer CSU1 Ultrasonic Cleaner uses sound waves to remove dirt from instruments and equipment. It has a 60 kHz frequency and a timer dial for cleaning cycles up to 60 minutes.
The Ultrasonic Tank can hold instruments or cassettes. It's made of stainless steel and comes with a removable lid and basket. The Tuttnauer Ultrasonic Machines have vinyl-coated steel exteriors that are easy to clean.
The CSU1 Ultrasonic Machine is standard, while the CSU1H has a built-in heater for specific cleaning solution guidelines.
Tuttnauer Ultrasonic Cleaners are proudly made in the USA.
Features:
Uses cavitation of water or cleaning solution to dislodge soil
60 kHz frequency for quiet, powerful damage free cleaning
Less aggressive and damaging than other ultrasonics
1-gallon capacity
Sized to fit loose instruments or 2 half-size cassettes
Timer dial for 0 to 60 minutes per cycle
Vinyl-coated steel exterior resists scratching
Stainless steel tank
Easy to clean
Includes cover lid
Heater Included
Stainless Steel Basket Included
Tank Dimensions:
Tank Capacity: 1 gallon (3.5 L)
Inside Dimensions (LxWxH): 9.37″ x 5.37″ x 4″
Outside Dimensions (LxWxH): 10.25″ x 6.5″ 8.5″